This section of the toolkit provides an overview of green house gas (GHG) emissions in professional service procurement and provides six specific strategies to reduce these emission. Jump to a specific strategy below:
Why Professional Services?
What makes professional services a significant "hot-spot" for climate friendly purchasing? These services are not particularly emissions intensive (high GHG emissions per dollar spent on services).  Rather, it's the government agencies and universities that tend to spend a significant portion of their budget on these services. The source of the GHG emissions generated by professional service vendors are very similar to those that may already be tracked and managed by the purchasing organization. Emissions are generated from the electricity used by the vendor when they turn on the lights in their facility to work on a report for a contract, or when they drive to a business meeting with a client.
Professional services often represent an untapped area for greenhouse gas emissions reductions.
Emissions from this category of purchases makes up, on average, 27% of total emissions for government agencies, and 10% of emissions other types of institutions included in the study. And for the two county agencies included in this study, the contribution of emissions attributable to this purchasing category rises to over 50% of their inventory
When an organization hires a professional service vendor, that vendor becomes a part of the organization's supply chain. Likewise, the GHG emissions associated with that vendor delivering their services also becomes part of the organization's supply chain emissions. The emissions occurring from vendors' operations, as well as those that occur within their supply chain, become shared emissions between the vendor and the organizations that hire them.
Government agencies can help shift their professional service vendors to more sustainable operating practices through a number of contracting and engagement strategies. These strategies should focus on alignment with your organization's priority climate actions. After all, you might consider these vendors as an outsourced extension of your operations, and thus, contributors to your organization's overall carbon footprint.
Public institutions can help drive sourcing of less carbon intensive products through their contracting and service agreements
For government agencies, represented by the blue bar in the graph below, service types contributing the highest emissions in the Professional Services category are dominated by management consulting, community programs and employment services. However, it is important to note that community programs are primarily contracted for by county or regional government agencies that provide social safety net services, and these types of services can contribute over 50% of their total supply chain GHG emissions for those organizations. Cities that do not provide community programs may wish to also explore opportunities to reduce emissions from engineering and architectural services, computer-related services.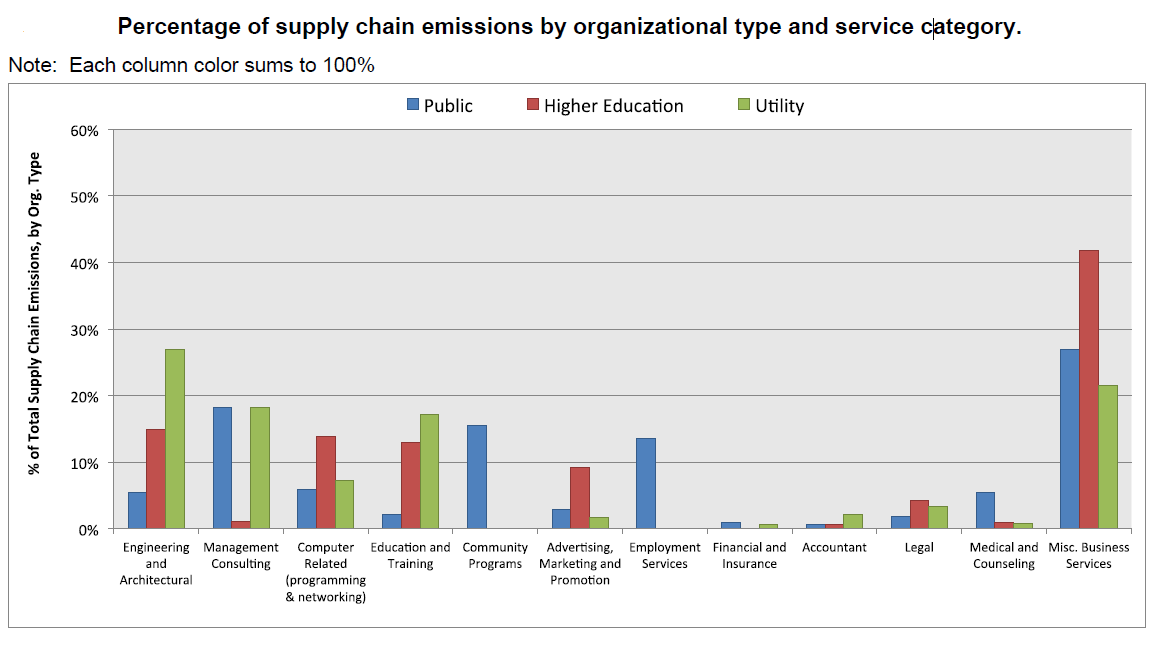 For higher education institutions, services are dominated by engineering and architectural services, computer-related services, and educational and training services (procured by the institution).
Review the full Trends Analysis report to learn more about the types of professional services that typically contribute to supply chain GHG emissions inventories of government and higher education institutions.          
Defining professional services
Professional services are the focus of this Climate Friendly Purchasing Toolkit module. However, many of the strategies included in this guidance are applicable to other types of service providers contracted by Institutional purchasers. Here we describe a few types of service providers for whom this guidance may apply.
 Professional services are defined by the Sustainable Purchasing Leadership Council as industries characterized by low capital intensity, high knowledge intensity and a professionalized workforce. Examples include legal, employment, architectural, engineering, public relations, financial and management consulting services.
Community services programs, such as social and health safety net services funded by public agencies. These are services provided to the community by private, often non-profit, entities under contract by the local government. Examples include public health services, community food, housing, and social services. As the primary social safety net provider, county-level government agencies typically spend a significant amount of their budgets on community services programs.
Operational or product service providers. Examples include landscape, janitorial, computer programming, office supplies delivery, and waste management and remediation services. In these cases, government agencies should evaluate where the biggest climate impact occurs -- in the goods delivered or in the vendor's operations -- and prioritize their efforts to maximize total GHG reductions in the life cycle of that service. Visit other sections of this Toolkit to learn more about addressing the environmental footprint of high-impact products that vendors may provide as part of service contracts
Key considerations for an organizational assessment
While the Forum's Trends Analysis report findings can help point organizations towards priority areas of focus, each organization should spend time reviewing and analyzing their own portfolio of professional and community services.  This helps to form the basis of a strategic action plan that focuses on the largest impact areas within this purchasing category. To learn more about conducting your own supply chain GHG inventory, check out the Forum's How-To Guide here.
For those organizations who do not have the time, resources or organizational support to conduct your own supply chain GHG emissions inventory, we recommend that you at least review the total dollars spent within professional services. This review will identify priority areas on which to focus your limited time and resources.
Key questions to consider will include:
What types of services are being procured?
Which departments are procuring those services?
Which vendors are receiving these dollars?
Can the 80/20 rule be applied (80% of the impact caused by 20% of the dollars/vendors/departments/etc.) for high impact/high spend areas discovered?)?
What contracting opportunities available that align with your organizational priorities, as well as have political or management support?
Learn more about the sources here!
Strategies: