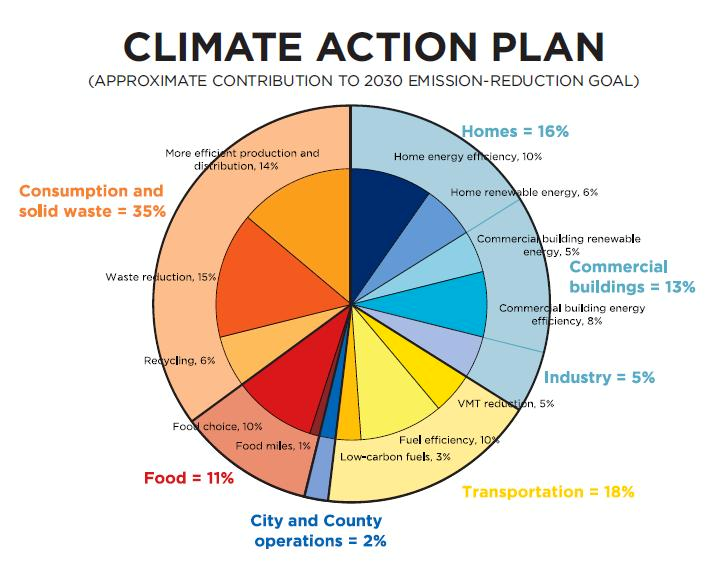 Jurisdiction: City of Portland and Multnomah County, Oregon
Plan Year: 2009
Update Year: 2013 (in progress)
Progress Report Year(s): 2011, 2010
Background:
In response to Portland City Council and Multnomah County Board of Commissioners' directive to reduce local carbon emissions 80% below 1990 levels by 2050, the City of Portland and Multnomah County adopted a Climate Action Plan in 2009. The CAP focuses on top actions for the next three years and has an interim goal of 40% emissions reduction by 2030.
The plan re-frames the traditional "waste" sector, characterizing it broadly as "consumption and waste," and targets a 35% carbon emissions from this sector.  The reductions come from the following sources:
Recycling 6%
Waste prevention 15%
More efficient production and distribution:  14%
Portland's CAP uses both the traditional and life-cycle approach to inventory Portland and Multnomah County's emissions.
"Both approaches are needed because the businesses and industries located in Multnomah County produce different kinds and quantities of goods than what local residents consume. Examining carbon emissions through both methods therefore provides a more complete picture of the total emissions for which Portland and Multnomah County bear some responsibility." Portland CAP, page 13?
Materials Management Goals:
Foster better consumption choices and reduce solid waste generated by 25%
Recover 90% of all waste generated
Reduce the greenhouse gas impacts of the waste collection system by 40%
Strategies:
Reduce total solid waste generated by 25% by:

Working with partner organizations to encourage businesses and residents to:

purchase durable, repairable and reusable goods;
reduce the amount of materials that go to waste, including food;
and reduce consumption of carbon-intensive consumer goods and services

Developing a measurement and evaluation mechanism to track waste prevented through preservation, re-use and thoughtful consumption

Recover 90% of all waste generated by:

Completing the implementation of mandatory commercial food waste collection in Portland and begin collection of residential food waste.
Assisting 1,000 businesses per year to improve compliance with Portland's requirement of paper, metal and glass recycling.
Together with Metro and Department of Environmental Quality, creating and periodically updating a regional waste management hierarchy that reflects energy and greenhouse gas emissions as key factors in prioritizing such technologies as commercial composting, digesters, plasmafication and waste-to-energy systems.

Reduce the greenhouse gas impacts of the waste collection system by 40% by:

Providing weekly curbside collection of food waste, other compostable materials and recycling. Shift standard residential garbage collection to every other week.
Completing the installation of particulate filters on pre-2007 waste collection vehicles to reduce particulate emissions. Older trucks that are not good candidates for retrofit should be phased out of operation.
Evaluating actions under the Portland Recycles! Plan and consider additional regulatory options to improve the efficiency of commercial collection service.
See pages 47-50 of the CAP for the complete list of consumption and waste reduction strategies.
Progress Report:
Banned plastic bans in all retail establishments and food vendors in 2012
Launched citywide residential food scrap collection program in 2011
Launched Sustainability at Work in 2011, a program that offers free tools to Portland organizations who want to create more sustainable workplaces, with a focus on waste prevention.

Nearly 2000 businesses received assistance from the program in the first year.

Residential garbage collected curbside decreased 38% in the period between Nov. 2010-Oct. 2011 and Nov. 2011-Oct. 2012
Residential composting collected curbside increased 180% in the period between Nov. 2010-Oct. 2011 and Nov. 2011-Oct. 2012
Launched "Be Resourceful" public outreach campaign focused on promoting thoughtful consumption in 2010.

Program representatives had conversations with over 5000 residents at community events.

Total tonnage of waste declined by 8% between 2008 and 2009 (lowest level in eight years)
See pages 39-40 in the Year Two Progress Report for detailed progress information on each materials management strategy.
Next Steps:
Adopt a policy regulating waste and recycling service in unincorporated areas of Multnomah County
Continue significant community engagement around food system planning to increase urban food production and encourage climate-friendly food choices
Links: