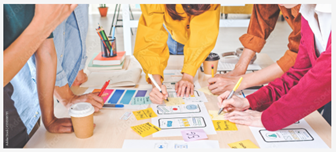 The West Coast Climate and Materials Management Forum is working to further its mission through four active workgroups consisting of representatives mainly from state and local governments. Each workgroup is forging their own path of how best to promote their subject matter.
Interested in joining a workgroup? Please email info@westcoastclimateforum.com
Curious about upcoming webinars presented by the workgroups? Register for upcoming webinars and view recordings of past webinars
Built Environment
The Built Environment workgroup is working to increase awareness and actionability for local governments with minimal resources and develop a better understanding of coordinating federal, state, and local government actions on embodied carbon in the built environment. The team is currently creating a resource list to share and a 2023 webinar series in partnership with other organizations working in this space. Stay tuned!
The second webinar in the series will take place on June 6, 2023. Register for the webinar here.
Consumption
The Consumption workgroup is focused on changing the way we think about consumption as a way to reduce greenhouse gas emissions. The group is creating a resource list and 2023 webinars. The first webinar is being designed to focus on consumption-based emissions inventories (CBEIs) – with real world examples and experiences shared. Stay tuned!
Extended Producer Responsibility (EPR)
The EPR workgroup is focusing on EPR related to packaging and has recently produced a white paper (PDF) (9 pp, 278 KB) on four main concepts around that topic. To present their concepts, the workgroup hosted a webinar on November 16, 2022 which was followed by a set of three curated conversations to dive deeper into the topics presented in the white paper and the November webinar.
Justice, Equity, Diversity, and Inclusion (JEDI)
The work of the JEDI workgroup infiltrates into all of the work of the other workgroups. A liaison from the JEDI workgroup currently sits on each of the other three workgroups to ensure that JEDI is considered throughout the Forum work.